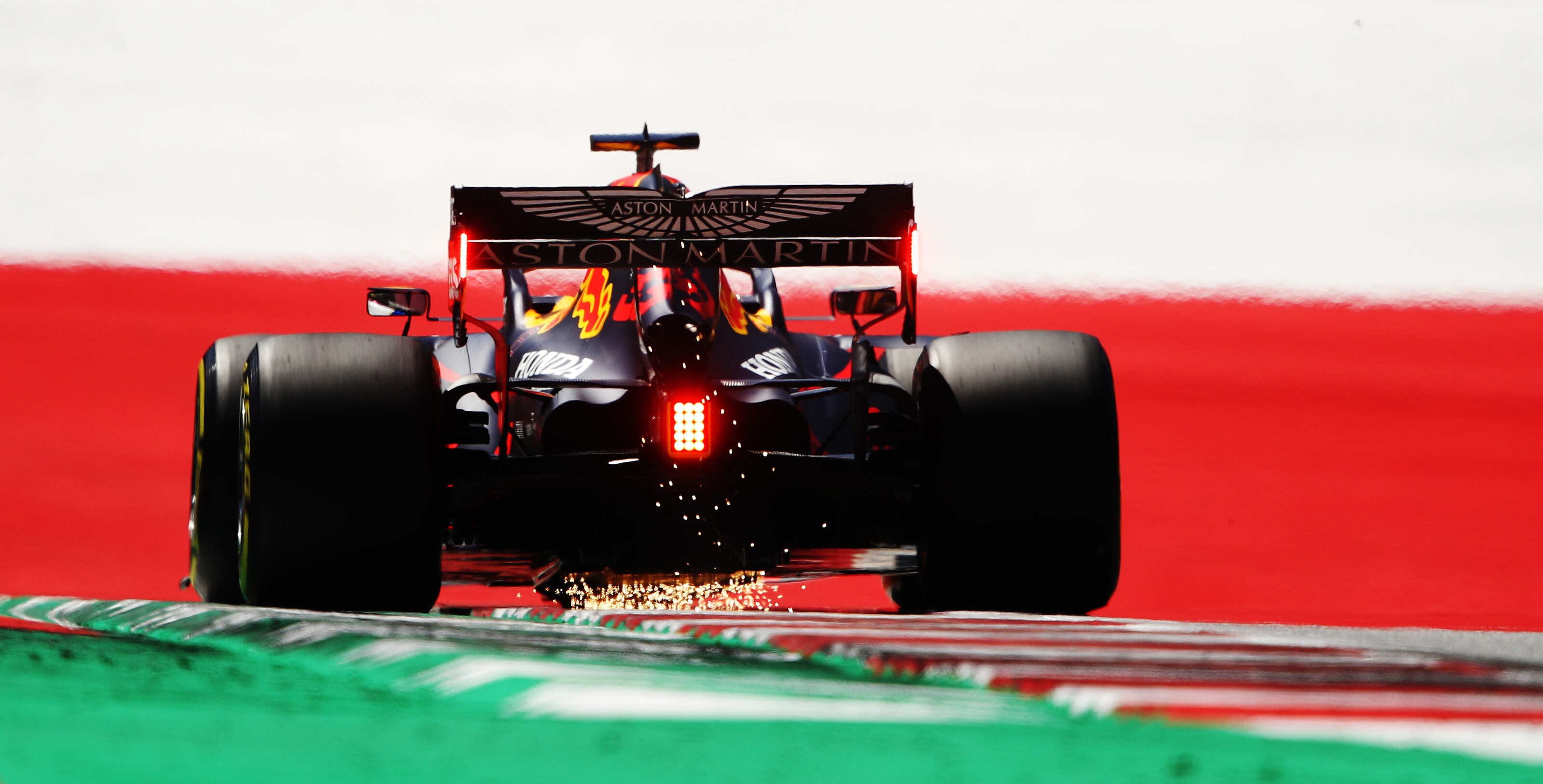 Portuguese Grand Prix™
Portimão makes its Formula 1™ debut – and you can be there!
For the first time in Formula 1™ history, the teams will be racing on the Portimão circuit in Portugal on 23-25 October. You can now join us at this unique circuit and watch the world's best drivers in action – LIVE!
Join the Team and support our drivers as they take to the Portimão circuit for the first time!
Buckle up, join the charge and be a part of the Aston Martin Red Bull Racing Team with our one of a kind trackside hospitality. The only way to experience Formula 1™ is to do it in style.
Portimão makes its Formula 1™ debut
Set in the Algarve, visitors are in for a treat of autumn sunshine at a fabulous circuit that is only 12 years old. Portimão is said to be similar to Austin's Circuit of The Americas; it is a modern venue with elevation change baked into its layout. The Ricardo Pena-designed 2.9-mile lap sends drivers swooping up and down hills, before culminating in a plunge down to the final right-hander at Galp leading back onto the pit straight – with the double-apex, Acque Minerali-evoking Portimao corner a particular highlight.
In the comfort of the Formula 1 Paddock Club™, you'll get an even deeper insight into the sport. Our team of expert hosts will take you through a series of fascinating and fun F1™ experiences; extending virtual driver appearances and behind the scenes virtual access to our garage to ensure you stay up to date with what's happening, keeping you well informed with insider knowledge across the race weekend.
As a guest of the Team, you'll also be able to enjoy everything Paddock Club™ has to offer, with access to the Main Lounge and entertainment areas as well as a the following experiences:
Truck Tour – Guided tour of the circuit.
Grid Photo Experience NEW! – Capture that perfect grid selfie with this new and unique opportunity to take a picture with the F1™ Championship trophies.
Photo Safari Tour NEW! – Visit special locations around the circuit, close to the track for unique photo opportunities.
Virtual Experiences – Interactive live interviews with F1™ drivers and live Paddock Tours.
As well as all the on-track action, we'll bring you exquisite cuisine based around the finest locally sourced ingredients and prepared by world-class chefs.
As a memento of your experience with us, you'll receive an exclusive Aston Martin Red Bull Racing Team gift bag before you depart, which includes merchandise signed by our drivers!
So get pumped, strap in and let's fly!
Join The Charge and Book Now